The fall season is a ripe time for school fundraising. Our advice? Focus on athletic themed auction items.
Why?
School fundraising auction items should be of interest to the guests. During this time of year, American families are enthralled with fall sports.
It's important to highlight the things that your guests love about life, and there is so much to love about fall.
The leaves are changing colors.
The air is crisp.
Pumpkin and harvest flavors are in all of our sweets.
It's also a time of getting into a new routine.
New Year's is the beginning of the 12-month calendar. But for a family with kids in school, the fall season is the rebooting of a whole New Year; jam packed with school and activities.
But there is another thing that is synonymous with fall for a large majority of Americans: Sports.
Did you know that more than 36.2 million kids (ages 5-18) play organized sports each year in America?
More than half of girls and boys combined play an organized sport.
The bulk of the most popular sports are played in the fall – football, soccer, and basketball.
I can relate with this reality. For my family and I, the feeling the crisp air on a late autumn is analogous with the sound of the marching band and the sight of Friday Night Lights burning bright.
Why does this matter?
Think about your audience at school fundraisers. How many of the guests will have children themselves? It's easy for sports to quickly become a family affair.  Taking kids to practice on the weekdays, going to games on the weekend, sports can take over the family schedule. But sports can be even more than what fills our time. Often the very presence of sports in the household is introduced because of the parent's love of the game. The weekends can then also be filled with countless of hours devoted to following a favorite professional sports team.
Sports are not only what we spend a lot of time doing, it's what we love.
Here are some stats on just how powerful the influence of sports is in our society, specifically for the popular fall-season sports.
Football
Football is still America's passion.
The average viewers per telecast for every Sunday night football has been estimated at 23.7 million. The combined average viewers per telecast for CBS and Fox for Late-time afternoon football is 50.9 million.
That's a lot of hours watching football – within a single day.
Sports players – their teams, their struggles and their victories – are our modern day heroes in epics of unmatched glory.
They are our city's badges of honor.
Showcasing your districts beloved team at your fundraiser will be the ticket to procuring many bids.
Soccer
Soccer is fast becoming the rising star of the show.
European Football has been growing in popularity in the states for years.
According to the Wall Street Journal, youth soccer participation now doubles tackle football participation. Soccer has also passed baseball's popularity by with one million more kids participating.
In 2016, the US Youth Soccer League Association reported that around 3 million kids play soccer.
And the numbers are only growing in soccer's favor.
Autographed auction items from your favorite soccer team or player will be the talk of the silent auction. For schools that are all about soccer, it will also be a more rare, but more desired commodity. Soccer paraphernalia has not been pushed in America's product market as heavily as football and basketball – another reasons why soccer memorabilia has become that much more special.
Basketball  
According to research from SGMA (Sporting Goods Manufactures Association) Sport Trends Study, it has been estimated that over 26 million Americans play basketball.
National Basketball Association captivated an audience or 63.25 million viewers this spring alone.
The giants of the sport (quite literally!) have dominated the courts, stealing the hearts of so many fans. Two of these champions are Michael Jordan and LeBron James. They have become household names, regardless of a person's passion for the sport.
Michael Jordan played for 15 seasons and won 6 championship titles. It's no wonder he is hailed as the greatest basketball player of all time. He received five MVP awards, ten All-NBA First Team Designations, nine All-Defensive First Team Honors . . . the list goes on and on.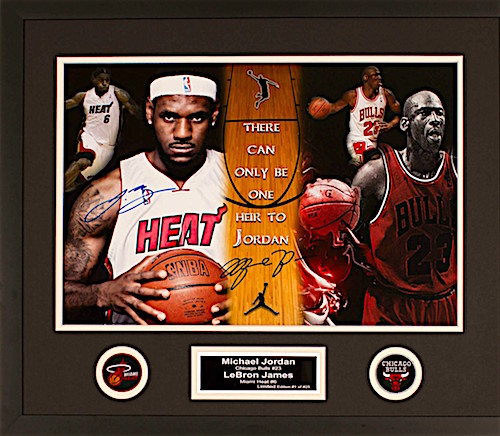 LeBron James is a monster on the court. At 6'8" with the thick mass of 250 pounds, he can turn on a dime and dunk with incredible power. He is hailed The King of his beloved city of Cleveland.
After winning his first championship title with the Cleveland Cavaliers, 1.3 million people to celebrate a parade in honor of the Cavaliers the following day.
Athletic themed auction items for your school fundraiser are a must. With zero-risk guarantee, there's only one question left: where do I sign up? Contact Charity Fundraising for our 30+ athletic themed auction items that best fits your needs!