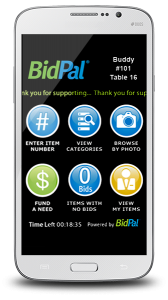 Having silent auction items at your fundraiser is a smart move to increase your non-profits donations and revenue. The planning process and the excitement during the silent auction event is quite familiar to the nonprofit world.
The newcomer into this world is the mobile silent auction. An estimation of 30% of auction events today utilizes a form of mobile bidding.
Think about it…
We become more comfortable and more dependent on technology every day. The usability and versatility of our smartphones and tablets is becoming more acceptable and desired over any other platforms.
 Mobile bidding is a not only becoming a more viable option for nonprofits than ever, it also comes with benefits!
Here are the ABC's to running a silent auction with mobile bidding…
A.
Benefit: Accessibility
Tip: Acquire the right mobile bidding provider
Mobile bidding with auction software can solve a number of problems for silent auction events. One of the biggest remedies is its ability to solve space constraints.
Utilizing a venue to its fullest requires the balancing act of a excited crowd and proper space. Successful events have a successful turnout of people. You can't have too few guests present and optimally succeed. On the other hand, your event will loose bids if your guests find it impossible to access the bidding sheets because of its too crowded.
With mobile bidding, a guest's access to the bidding sheet of an auction item of interests is at one's fingertips! Mobile bidding creates easy access, allowing donors to more easily engage with the auction items of his/her interest.
Not only does mobile bidding create a global access to auction items (increasing the competition component of the event), it also creates a freer atmosphere in the selected venue.
Instead of being tied to the auction tables with pen and paper bidding, mobile bidding allows your guests to enjoy and take their time in line at the buffet, eating at the tables or mingling with their drinks.
A quick tip: Make sure you spend time acquiring the right mobile bidding provider. The accessibility of mobile bidding can only be as good as the platform you decide to use!
B.
Benefit: Branding
Tip: Bundle items
Mobile bidding provides your auction event new branding opportunities for your organization as well as your event sponsors. Technology has its limitations – batteries deplete and phones and tablets need to be recharged.
The solution?
Branded charging stations or baskets with branded individual pocket chargers.
A quick tip: sponsorship opportunities can be increased when you bundle items through mobile bidding. Creating packaged deals allows for smaller but more sponsorship. Combining smaller donations into one larger auction item instantly makes the sum of its parts more valuable than before.
C.
Benefit: Convenience
Tip: Consider cell reception
Not only does mobile bidding bring convenience to your guests, it also saves YOU time!
When silent auctions are moved to an online platform, nonprofits can eliminate the unnecessary stressors and time wasters. Some of these hassles include bid sheets, spreadsheets, auction binders, receipts and more. Paperless transactions offer more organization and less time.
A quick tip: event headaches with mobile bidding come in the form of poor cell reception. Remember to consider the cell reception as a priority when picking the venue for your event. Additionally, consider creating wi-fi hotspots if cell reception is a concern for your venue. (These hotspot areas can also be branding opportunities!)
Looking for more tips and tricks to make your silent auction a success? Contact Charity Fundraising at https://www.cfr1.org/