Finding silent auction items for nonprofit fundraisers haven't ever been this easy.
Our no-risk auction items guarantees safety for your nonprofit when you use our consignment auction items. (That means we will ship all of the fundraising items you previously chose at no cost to you, custom framed and ready for display! And if your auction items did not sell, we will pay for the return shipping and ensure you have the material necessary to send the items back.)
But out of our hundreds of silent auction items, what's the benefit of picking autographed sports memorabilia?
Here are three ways Sports auction items have appeal.
Universal Appeal
Generational Appeal
Competitive Appeal
But let's unpack these to understand the breadth of their importance
1. Universal Appeal:
Baseball has been coined America's favorite pastime.
Football is a lead contender for the title Baseball holds.
No matter what age, sex, gender, socio-economic class, political view, or geographic location, people love sports… for the love of the game.
Sports have a universal appeal to the vast majority of us. There is a joy that games bring us.
Millions of people – friends, family, and strangers at the bar – come together (almost nightly) to cheer on their heroes!
What does that mean for a charity fundraiser? It means that a LOT of people will be interested in Autographed Sports Memorabilia.
2. Generational Appeal
 Some of my fondest family memories come from two distinct events – breaking bread at the dinner table together and spending time together watching (and playing) sports.
My mom and I would go running together and watch Wimbledon every year. My dad and I would throw a ball in the backyard on many summer nights. Driving to and from practices, watching TV, and orienting our weekend meals around a game were common aspects of my childhood.
Many kids grew up the same.
Sports tend to have a generational appeal, making the fundraising item more than just an object of interest for the moment.
Receiving a signed and framed Michael Jordan photo can mean something to the entire family on a generational level. In some ways, it's priceless, because its value cannot have a price tag associated with it.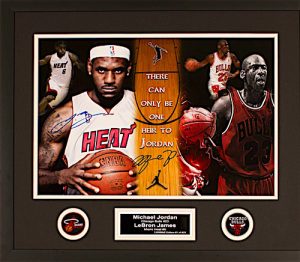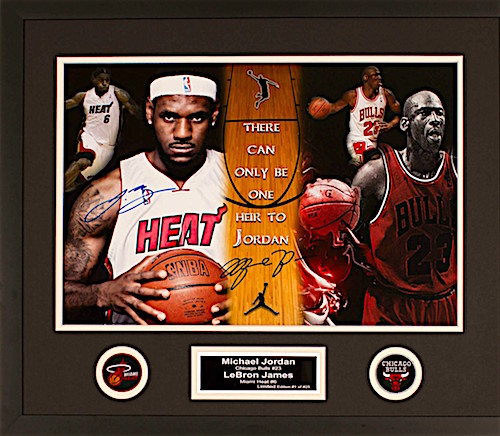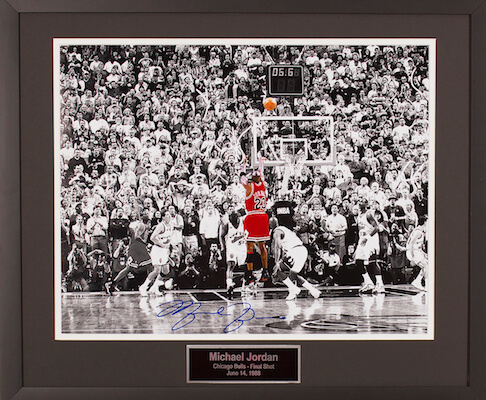 Which leads us to our last appeal…
3. Competitive Appeal
 Autographed Sports Memorabilia is priceless. .
But that also means that, unlike a vacation package or a gift basket full of gift cards, there is not set "price" that creates a value limit.
A fundraising item that has no "bid ceiling" are the best kinds of silent auction items.
These items are one of a kind – meaning, they can't be found (almost) anywhere but here at (almost) any other time, but right now.
They are competitive items.
The rush and excitement that floods the room and fills the atmosphere with a bustle happens almost every time an exciting and unique item is offered like these.
An item must be one of quality – one that your audience would want to bid on. But another component of a truly successful item that will procure high bids is that it is competitive.
So why not give it a try! See how this universally, generationally, and competitively appealing auction item will procure high bids for your worthy cause! We love to see how beneficial are auction items are for the nonprofits we work side by side with. But if we are proven wrong, we will pay for the return shipping and ensure you have the material necessary to send the items back at no charge to your organization!
What are you waiting for? Contact Charity Fundraising today to inquire about any of our sports memorabilia charity auction items.