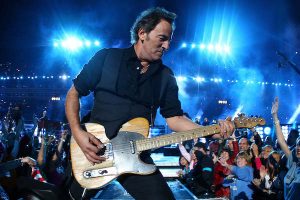 Autographed auction items always procure high amount of bids at live or silent auctions.
They stimulate competition.
They are rare items.
They remind people of some of their cherished memories.
But it's more than that…
The real reason why people get excited about autographed auction items is because they tangibly represent something they love.
Maybe the songwriter was right when he said "All you need is love."
Reason #1
Love brings us to the first reason why Autographed Guitars succeed: Guitars are loved by those who love music. And let's face it, a lot of people love music.
Music expresses emotions, it brings people together, and it unifies. The love for the music is a large common denominator.
For musicians, the instrument becomes a part of them. It feels second nature to pick up and play the guitar.
Jimi Hendrix said, "I love my guitar."
Now, he also his Stratocaster on fire at the Monterey Pop Festival.
Proclaiming that this was an act of love Jimi stated, "You sacrifice the things you love."
While all auction items are tangible representations of something your guests love,  guitars are special. They are extensions of the artist your guests adore. A serious Rock and Roll (or really any kind of music) enthusiast knows that autographed guitars are sacred.
This is why autographed guitars raise the bids. There is always a very high demand for autographed guitars from our fundraising partners.
Reason #2
But the second reason why Autographed Guitars succeed at auction fundraisers is due to how the item is interactive memorabilia.
While autographed and framed posters and album covers do very well, the autographed guitar offers something special:  they can be handled and used. It's a tangible item. We often see the live auctioneer actually strum a few tunes on the guitar while the auction is taking place – this interactive action helps to excite the crowd and increased the bidding.
The tangible nature of the autographed guitar brings with it an experience as well as cherished memories and fondness for the musician and his or her songs.
What are you waiting for?
Check out our available authentic autographed guitars from top performers in all music genres. We have everything from The Rolling Stones to Bruce Springsteen, Taylor Swift to Jimmy Buffett, U2 to Black Sabbath and many more.
Contact Charity Fundraising today to reserve your autographed guitars for your next live charity auction at zero risk to your nonprofit! We send you the auction item for free, and if it doesn't sell, we take it back and pay for shipping! What do you have to lose? Try it out for your next auction fundraiser!