8DBJZTY6PZF3 We're happy to verify our blog claim token with Technorati!
Charity Fundraising is constantly developing new silent auction ideas to help our charity partners raise the most money at their fundraisers. In previous blog posts we have showcased other  silent auction ideas that we developed in 2012 such as our autographed presidential photos, autographed  movie posters and our autographed animation art. Today our blog will focus on 3 new amazing autographed guitars that  are now available to our charity partners.
Guns N' Roses Autographed Guitar – Guns N' Roses is an American hard rock band, formed in Los Angeles, California, in 1985. The classic lineup, as signed to Geffen Records in 1986, consisted of vocalist Axl Rose, lead guitarist Slash, rhythm guitarist Izzy Stradlin, bassist Duff McKagan, and drummer Steven Adler. The band has released six studio albums, accumulating sales of more than 100 million albums worldwide, including shipments of 45 million in the United States. The band's classic lineup, was inducted into theRock and Roll Hall of Fame in 2012, their first year of eligibility.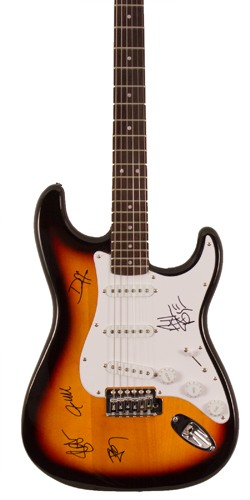 Pearl Jam Autographed Guitar – Pearl Jam is an American rock band that formed in Seattle, Washington, in 1990. The band's original line-up has included Eddie Vedder (vocals), Stone Gossard (guitar), Jeff Ament (bass), Mike McCready (guitar). The band's current drummer is Matt Cameron, also of Soundgarden, who has been with the band since 1998. To date, the band has sold over 31.5 million records in the U.S, and an estimated 60 million worldwide. Pearl Jam has outlasted many of its contemporaries from the alternative rock breakthrough of the early 1990s, and is considered one of the most influential bands of the decade. Stephen Thomas Erlewine of Allmusic referred to Pearl Jam as "the most popular American rock & roll band of the '90s." Pearl Jam will be eligible to be inducted into the Rock and Roll Hall of Fame in 2016.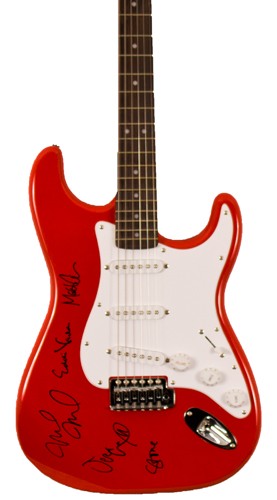 Female Superstars Autographed Guitar – This guitar is a Charity Fundraising exclusive silent auction idea. Over the last year we are able to track down the top 6 female music artists of today and had them all sign this guitar. This guitar is autographed by Taylor Swift, Miley Cyrus, LeAnn Rimes, Carrie Underwood, Martina McBride and Sara Evans.
We hope you will take advantage of our new silent auction ideas when it comes time for your next fundraiser. Please contact us today to reserve one of these guitars for your next event.