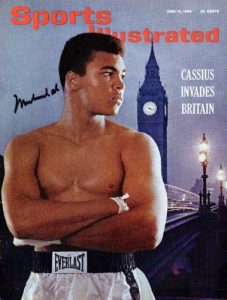 On June 3rd, 2016, Muhammad Ali, one of the most celebrated sports figures of the 20th century, passed away. Ali was renowned for his success in the ring and his polarizing personality outside of the boxing arena.
Anyone familiar with The People's Champion would no doubt be aware of his achievements as a professional boxer: a 56/5 boxing record and a gold medal as the amateur boxing light heavyweight at the 1960 Rome Olympics. Ali's legacy as a boxing champion is commemorated by the International Boxing Hall of Fame and the countless medals and honors he received for his exceptional athleticism.
Muhammad Ali's legacy is carried on by beloved fans and the many lives he impacted outside of the ring. After retiring from boxing in 1981, Ali dedicated his life to charitable work. Ali's humanitarian work in Ghana, Sudan, Israel, Kenya, India and other countries around the world is still remembered and felt to this day. In 1981, Ali even prevented a man from committing suicide by talking him down from the ninth-floor ledge of a Los Angeles building.
Despite being diagnosed with Parkinson's disease in 1984, actively helped to benefit the welfare of all human beings. He became involved in politics by openly supporting Ronald Reagan during the former President's re-election. He visited Israel in 1985 to plead the release of Muslim prisoners being held at an Atlit detainee camp, and in 1990 he successfully negotiated the release of American hostages held in Iraq during the Gulf War. He also went to Afghanistan and served as the UN Messenger of Peace in November 2002.
Located in Louisville, Kentucky, the non-profit Muhammad Ali Center was opened in 2005. The center displays boxing memorabilia and promotes the core values Ali held in his professional and personal life.
Muhammad Ali's contributions to society will never be forgotten. He truly was The People's Champion. Charity Fundraising seeks to commemorate Muhammad Ali and, more importantly, carry on his legacy of charitable work and non-profit endeavors.