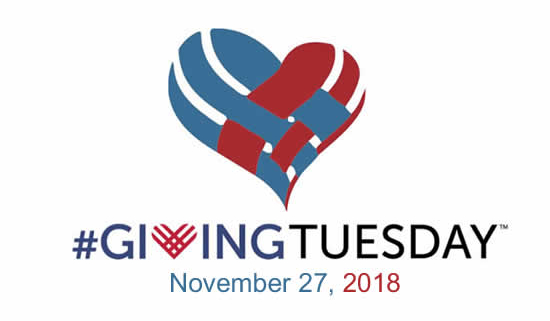 The big day is coming up.
Giving Tuesday 2018 is almost here!
This day accounts for one the biggest fundraising days of the year.
Here are some of the facts:
– Giving Tuesday is only 6 years old.
This is a new phenomenon. But's its growing in popularity… fast.
Many nonprofit companies are still trying to learn how to navigate this new world of internet and social media campaigns. But it's becoming more and more obvious that it's worth it!
– Last year raised $274 million
…. That's 63% more than 2016
There has been more than 100% growth in total donations in the last two years.
And the increase is up 2,000% from the first Giving Tuesday in 2012.
Experts don't expect this trend to slow down. People tend to get stuck in annual habits. And it's happening that way with Giving Tuesday.
-63% of Giving Tuesday donors give ONLY on Giving Tuesday
There are two take-aways from this statistic.
First, donors love this. And while year-end giving has always been an important time of the year for donations, Giving Tuesdays is becoming another crucial time to get in front of your donors.
Second, there seems to a specific type of donor that is ONLY reachable through Giving Tuesdays. Don't miss out the opportunity for this once a year chance!
So what does this mean for you?
How can you begin to interact with Giving Tuesday? Some of you reading this may be new to the nonprofit world and you can barely handle the first fundraiser that's coming up in a month or two. Some of you are seasoned pros.
Wherever you are, these short tips will help you maximize Giving Tuesday exposure!
Tip 1: Be active on Social Media
Maybe your organization has a thriving social media presence. Or maybe your facebook page and twitter account's last post was in 2016. Regardless. Start posting now about Giving Tuesday. We are just a few weeks away from the big day.
Tip 2: Use Proven Buzzwords on Social Media
According to DataKind's 2017 Giving Tuesday study, here are the most commonly used words during #GivingTuesday on Social Media:
• RT
• GivingTuesday
• Donate
• Today
• Giving / Give
• Amp
• Please
• Support
Tip 3: Share who you are!
This is a fantastic opportunity to share who you are as an organization and what you care for! The world is interested and listening over these next few weeks leading up to Giving Tuesday! Don't miss out!
Tip 4: Get your Website Ready
Make sure you are mobile friendly and have a place for newcomers to learn who you are and how they can help. With 63% of Giving Tuesday donors as one-time givers, there may be new faces showing up at your URL on this Tuesday!
Tip 5 (for next year): Host an Online Auction
Consider hosting an online auction for the next Giving Tuesday.
This can be a fun way to give back to those who are donating to you! Charity fundraising auction items like VIP Vacation Packages and Autographed Memorabilia make the perfect gifts during the Holiday season.
Contact us for more information and to request our risk-free auction items for your next fundraising event!
Join Chorus of nonprofits on Tuesday November 27, 2018 in the song for change!
#GivingTuesday2018
_____
Sources:
www.networkforgood.com/nonprofitblog/givingtuesday-2017-means-nonprofits-2018
www.thenonprofittimes.com/news-articles/givingtuesday-hits-record-274-million