How many FREE resources and tools does your nonprofit marketing team and staff have at their fingertips?
Over the years, we've noticed how hard it is for nonprofits to gain the tools that could make their job easier.
This is such a shame since streamlining processes saves money, time, and your staff's resources. Every nonprofit is focused on stewarding these resources well, and yet they are the organizations that find themselves strapped.
Small nonprofits can't hire full-time designers. They can't buy Photoshop to crop or edit images for their Facebook posts or upcoming event's invitation flyers.
Do you ever find yourself in this position?
We are here to help! Here is a list of FREE resources for nonprofit fundraisers and marketers.
These resources span from media enhancement to software to online marketing strategy tools.
Media Enhancement
Canva
Typito
Vecteezy
Unsplash
Software
Marketing Strategy Tools
Let's take a look!
Canva
Canva offers its premium version free to registered nonprofits! Canva helps organizations with their design, marketing, branding, and photography needs.
Like Photoshop their online (and therefore highly accessible) platform helps you create professional and clean social media graphics and marketing materials.
You can use Canva as a design expert, utilizing the platform to create exactly what you envision, or you can use their ready-made and easy-to-use templates for designing invitations to your next fundraiser, graphics for a social media campaign, an annual report, or a flyer to spread the word for your upcoming donation drive.
Try out Canva for nonprofits today!
Typito

Create on-brand videos!
Typito gives you excellent and customizable motion graphic templates – full HD videos!
This tool grants free access to 600,00+ high quality images and offers the ability to access and upload your own audio or music track.
It transforms a square or vertical video format with just a click.
And it gives you a real-time preview before you export your product! This high-end tool is easy to use and so helpful! Try Typito today!
Vecteezy
PDFs and online information can be dry and boring. Visually enhancing documents and pages with icons and small images changes the presentation of information online.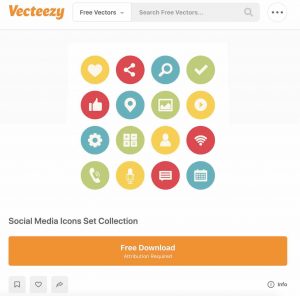 It's the difference between a monotoned speaker and someone who adds variation and excitement into a presentation. Colors and images do the same in a text-format presentation of info.
Vecteezy gives high quality icons and small images for free!
Browse their vector files here! 
Unsplash
Freely usable images. What's not to love? A high-quality image in any social media post, campaign, newsletter, invitation, or flyer changes everything.
Techsoup
This is the best resource we could give you when it comes to software.
Techsoup is a one-stop shop. Techsoup was created exclusively to help nonprofits, empowering them through connections and resources – particularly software.
Think Microsoft Office, Anti-virus software, etc.
Microsoft gives you one platform for all of your documents. Adobe Acrobat Pro is a game-changer for editing PDFs.  Zoom makes online meetings run smoother and helps get more things done!
Connect with Techsoup today!
Google Ad Grants
Every month, Google gives $10,000 of advertising away to qualifying charities!
How? Through Google's Ad Words pay-per-click platform.
Google Ads display your organization as a search result at the top of the page. That means that when people are searching for keywords related to your nonprofit, Google will help you connect with them faster!
See if you're eligible and try Google Ad Grants!
Hotjar
If your organization is recognized as an official nonprofit or charitable organization, Hotjar is an amazing resource for your nonprofit's web presence.
Hotjar helps your nonprofit utilize your website. This resource is a fast and VISUAL way to understand your users. You don't have to be a tech genius to understand how people are interacting with your website.
Hotjar can show you how many people clicked on or scrolled past a featured upcoming event on your website's homepage.
This platform gives your nonprofit insights, analysis, and feedback to optimize your website, and it provides it to you in the most user friendly way possible!
Click here to learn more and apply.
We hope this has been helpful! Take a look at other articles Charity Fundraising has written recently!