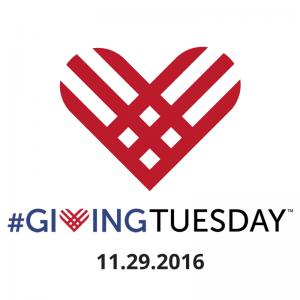 It's a busy time of the year – Thanksgiving Thursday, Black Friday, Cyber Monday, and now, Giving Tuesday! What started in 2012 as a social media message to encourage communities to donate to their local nonprofits has grown to becoming an up and coming donation revenue day for nonprofits. According the gathered statistics of Whole.Whale.com, within three short years, Giving Tuesday went from raising just $12 million in donations to over $116 million, each year with increased average gift sizes per donation.
However, room for expanding the market for Giving Tuesday is large. According to a 2015 national survey by the John Templeton foundation, "Just 18 percent of Americans are familiar with Giving Tuesday, the annual day of giving, while almost all — 93 percent — are familiar with Black Friday." With our growing dependence on social media, the spread of this event is only bound to increase.
This year, #GivingTuesday will take place on November 29, 2016.
So what can your nonprofit do to be engaged in Giving Tuesday? How can your nonprofit utilize this growing Charity Event?
Here are the three helpful tips to your nonprofit utilize #GivingTuesday:
Utilize your Regular Mailing Calendar (Especially in your Year End Appeal)
As you put together your editorial calendar, include Giving Tuesday in all of your regular mailing, social media, and email marketing before and after November 29th. Participating in this event can be as big or as small of an ordeal as your nonprofit sees fit. However, if you integrate Giving Tuesday into your standard donor outreach, each piece of your campaign will reinforce one another to create a cohesive message/plan for your nonprofit. This will be especially important for your regular mailing for your year-end appeal. This reinforcement can act as a bolster for both your Giving Tuesday donation gifts as well as your year-end appeal performance.
Utilize #GivingTuesday's resources!
Here at Charity Fundraising, we are always encouraging our readers to realize who is on their nonprofit team. Giving Tuesday is a free and nationally recognized event that you can be apart of. Realize that this event is now a part of your team. (This includes the other nonprofits that are also engaging in the Giving Tuesday event. In the social media world, the more players in the Giving Tuesday event, the bigger the event's trend will be!)
Visit GivingTuesday.org! This website is full of resources such as case studies, videos, results from the previous giving Tuesdays, logos and branding materials, and more. The Giving Tuesday blog also provides, up-to-date examples from organizations who have participated in years previous, announcements, and tips/ideas!
Utilize new/different ideas, tactics, or tools
Let's face it; if you have an engaging team to support your nonprofit, there are more ideas and strategies than there is time within the reality of a limited budget. And the fact is, structure and some level of predictability is necessary for the success of a nonprofit. Annual events that appeal to your donor base and weekly, monthly, or quarterly newsletters become the expected standard. Loyal donors are the best kind of donors. Sometimes, a loyal donor cannot invest a lot of time into new campaigns every two months.
Thankfully, Giving Tuesday gives your nonprofit the chance to test out new ideas and be apart of a global (albeit cyber) charity community… for one day! Try using that platform you've been wanting to play with, ask for a matching grant from a partner, sponsor, or major donor (which is always fun and successful for short timelines!), or maybe integrate a physical or virtual event/action for November 29.
Work Giving Tuesday into your editorial calendar, use the resources that are available from this movement, and think big for one day! Make this Giving Tuesday the best one yet!
To learn more about Giving Tuesday please visit https://www.givingtuesday.org/