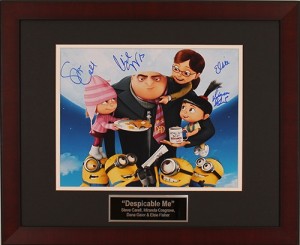 The 2010 American 3D computer-animated comedy film from Universal Pictures and Illumination Entertainment did very well for itself, grossing over $543 million worldwide. The original storywriter, Sergios Pablos, created characters that would be loved by their audience. Directors Pierre Coffin and Chris Renaud gave this story the perfect platform on which to shine – amazing animation, acquired from the French animation studio Mac Guff, and amazing voice actors
The quirky story stars Steve Carell as Gru, a supervillain who adopts three girls (Miranda Cosgrove, Dana Gaier, and Elsie Fisher) to help him steal from his rival, Vector (Jason Segel), so he can ultimately pull off the biggest heist in the history of the world: stealing the Earth's Moon.
This ridiculous and silly movie, full of dry and childish humor alike, can warm the heart of any soul who watches it. Perhaps one of the most unexpected things to come out of this movie is the Minions phenomenon. Like all good villains, Gru has henchmen. But these henchmen, called "Minions", are adorable, funny, and all around irresistible. These little yellow creatures have taken over the merchandising market for the last five years. Shirts, slippers, lunch boxes, plush minions, you name it! And now, after two successful movies in the franchise, the minions will be getting time in the spotlight with their own primetime featured film. Minions, will be coming to all theaters July 10th, and it is expected to be a box office hit! After all, who wouldn't want to see these cute little guys goof around on the big screen?
The Despicable Me phenomenon is far from disappearing with two films in the series, a spin off film coming this July, and talk of a third film coming out in 2017. Charity Fundraising offers amazing auction items (live and silent auction items) for your nonprofit that are relevant, hot, unique, not to mention fun that will get any crowd into the bidding battle.