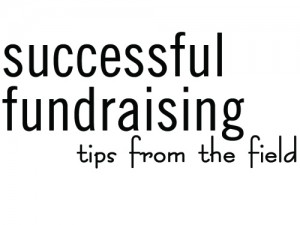 When non-profits decide they will take on a large fundraising event, it is easy to get caught up in the vast amount of details that have to be addressed. More often than not, the fundamental rules of fundraising disappear in the planning process.
While they seem elementary, it is absolutely essential to remember the core basics of running a fundraising event.
Time management
Without a doubt, your non-profit's biggest event require a year-long effort. The closer you get to the date of your event, there is bound to be stress and late nights. After such a large event, it is tempting to take a couple of weeks (or months) off to rest. However, big annual events require big annual efforts. Don't loose the precious weeks directly after your event.Time management begins by reconnecting with this year's event donors while they are still engaged and active with your organization. Cultivating a relationship with event donors requires more than asking them for help when the time comes around for another event. Visit them, stay in touch with them, steward them. Stewarding relationships is just as important as   building new relationships. Keeping strong relationships also give you a springboard into finding more potential prospects. Ask your current event donors if they know anybody who might be interested in sponsoring the event. All of this networking must happen before your renewal asks for the event (which should be 4-6 months out from the event.) It's a year-long endeavor. And it must be treated as one.
Financial Goals
Most non-profits aim for a certain amount of revenue for each event they create. However, most non-profits create "gross revenue" projections and goals. Gross revenue the amount of money you bring in, without regard to event costs. Not taking into account the event costs gives you an unrealistic look at your event's actual profit. It is key to set realistic goals for your organization's events by projecting your "net revenue" – the money you raise at an event when factoring in the event's cost.This mindset helps you tailor your event planning around this principle: money saved is money earned. Think about it this way: if you raise $30,000 dollars but spend $15,000 on the event itself, you have a net profit of $15,000. However, say you get your materials donated and go with a quality but less expensive catering service. This means you still raised $30,000 but only spent $10,000 on the event. This means you end up with $20,000 in net revenue that goes to your organization…that's a 50% increase in fundraising revenue to your bottom line!
Focus
Don't get distracted by the sideshow. There are almost infinite amount of small details to decide on for a non-profit event. There are color schemes to choose, cheese baskets to put together, and event favors to package. Don't get sucked in! What matters for your event is fundraising.It is important to have a nice event. You want your guests to have a comfortable and enjoyable time at your event. Color schemes and floral arrangements should be picked and they should be tasteful. But do you really need to spend 5 hours with a committee picking them out together? Keeping staff members focused on the fundraising aspects of the event, like sponsorship calls, is much more important than floral arrangements.
Sponsorships
Sponsorships are key to having a long lasting and stable event history. Sponsors are the epitome of active and involved donors. Cultivating and retaining old and acquiring new Sponsorships should be your #1 priority when you are planning your non-profit fundraising event. It should probably be #2, #3, and #4 on your list as well. Suffice it to say, most of your event efforts should be focused on fundraising, and most of your fundraising efforts should be focused on selling sponsorships. A smaller amount of time should be spent on ticket sales, and even less on added revenue streams.